J-Cleans Carpet & Upholstery Care Kit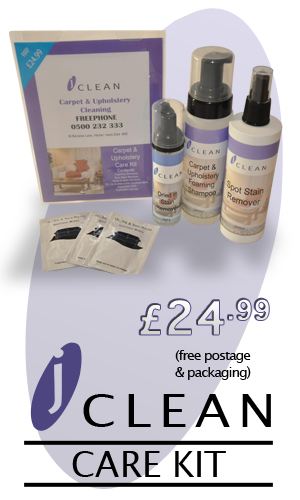 This Carpet & Upholstery Care Kit provides the required cleaning products to care for and maintain the appearance of your carpet & fabric upholstery.
Carpet & Upholstery Foaming Shampoo
Used to remove areas of general soiling.
Dried in Stain Remover
For the removal of stubborn stains such as dried in tea, coffee, blood etc.
Spot Stain Remover
Used to remove a variety of stains.
Quality Cleaning Cloth
Excellent at cleaning carpets & upholstery to a lint free finish.
Oil, Ink & Shoe Polish Spotting Wipes
Used to remove fresh ink stains, oil and shoe polish.
Useful Tips for caring for your upholstered furniture and carpets.
Regularly vacuum upholstery as this will help to prevent the build up of general soiling.
Do not attempt to use any other cleaning materials on your carpet and upholstery other than those provided in this kit.